The International Professional Driver Appreciation Week From 4th May to 8th May
A Sincere note of THANK YOU to all Professional Drivers on our globe.
It's International Professional Driver Appreciation Week, and we wanted to take a moment to show our gratitude for the many contributions that drivers make to this vast world of ours, daily and these contributions that too often go unrecognized.
We know that without the hard work and dedication of Professional Drivers, our way of life would come to a grinding halt. From all the passengers travelling 24 hours from A to Z, the food we eat and the clothes on our back to the tech we use in our homes, schools, and workplaces, it all has to be delivered via truck or bus. So we'd just like to say:
THANK YOU Professional Drivers'
THANK YOU for Your Commitment
Operating such a large, sophisticated vehicle is hardly an easy task. It takes serious time and effort to acquire the skills needed to handle a big bus or truck — and not everyone can do it. And that's just learning the basics — there's always more training to be had, from mastering the latest new technology to learning a new company's way of doing things. THANK YOU for your unwavering commitment to being the very best at what you do.
THANK YOU for Your Professionalism
There aren't many other jobs out there where a momentary lapse in attention could be dangerous — but for Professional Drivers, it's a daily reality. That's why drivers are hypervigilant when it comes to safety. They know every best practice, every company rule, every newly-updated law, and scrupulously follow each one to the letter — because they know just how serious the consequences could be if they didn't. THANK YOU for your professionalism in every aspect of your job. 
THANK YOU for Your Sacrifices
It's a simple fact — Professional Drivers don't get to be at home as often as most other people. Whether they're leaving at the crack of dawn and getting home late or staying on the road for weeks at a time, it's not a 9-5 job. And that kind of schedule comes with some significant sacrifices. Professional Drivers know how to make every minute spent with family and friends count. THANK YOU for the sacrifices you make to keep our world moving.
THANK YOU for Being You
It's no secret that Professional Drivers are a breed apart — independent, sturdy, and capable. Without that legendary driver spirit, our nations, and our lives, would look very different. You make a difference in the world every day, just by being you. And we sincerely THANK YOU.
Professional Drivers rarely get public praise and appreciation they deserve. Still, at UICR and its Member Countries, we do our best to ensure that they get the tools they need to demonstrate their commitment and showcase their professionalism. Our solutions help Professional Drivers stay safe and compliant while doing their job at the highest level possible — and for our nation's Professional Drivers, that's pretty high.
Be safe out there in all that you do. From the bottom of our hearts, we THANK YOU for everything you do!
A special THANK YOU to all Professional Truck Drivers
A special THANK YOU to all Professional Bus Drivers
Go to the Facebook page of the "Int. day of professional drivers" and see the "Thank You Professional Driver" in multiple languages 
PDF file to download Say Thank you! (in English), Sage Dankeschön! (in German), Dites merci! (in French), Dici Gracie! (in Italian), Sanotaan Kiitos (in Finish), Podziekuj (in Polish) Diga Obrigado! (in Portuguese) download and translate it into your language/dialect and please let us know, a short email to Robert.Kastner@UICR.org to be able to name your company, organisation. club and country.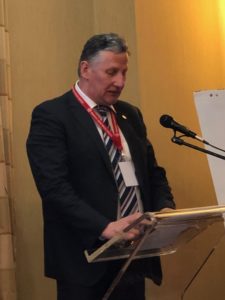 Regards,
     Robert Kastner
     President UICR