ACTIVITY
2nd International Professional Driver's Day
UICR presents the 2nd International Professional Driver's Day on May 12, 2017 with the goal to say thank you to all professional drivers, who work hard every day to get products and people to their destination. This year's action to express gratitude towards professional drivers is to  tie a yellow ribbon to the left mirror of your vehicle, truck, bus or even the handlbar of your bike etc.. Support us in communicating the event to make it a great day. Our drivers will appreciate it. Following the description in different languages:
>Czech
>English
>Estonian
>Finnish
>French
>German
>Hungarian
>Italian
>Latvian
>Lithuanian
>Norwegian
>Polish
>Slovak
>Slovene
Meeting with ASFINAG about secure parking areas
On February 16, 2017 ceveral organisations met at the Austrian ASFINAG headquarters to discuss secure parking areas along Austrian's motorways. Also the topic of EU regulations 885/2013 to provide intelligent information technology for secure parking for commercial vehicles was discussed. The meeting was organized by UICR and ESPORG.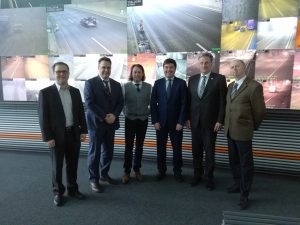 from left to right:
David Kollenhofer ASFINAG Strategy International Relations and Innovation Manager International Relations
Oliver Deiters – Head of Global External Affairs and Public Policy DEKRA
Dirk Penasse – President ESPORG
Frédéric Maas – Senior Policy Advisor DEKRA
Robert Kastner – President UICR
Georg Brizsak – Vice-President APDA